As a company we pride ourselves on supplying durable, strong, heavy-duty and solid bed frames which are built to last. We have tried to cater for all markets and have therefore built our collection using only the finest materials and have listened to clients when choosing our products making them available in many sizes and colours to suit. All our beds are available to purchase by the private and public sector.
We offer two types of divan bases including our reinforced divan which is a strengthened version of your everyday standard divan, and our heavy-duty divan base which is constructed from solid MDF for a much stronger product. Our endurance beds collection has a wide range of bed frames in a selection of colours to suit all individuals taste, all of which come with a lifetime guarantee. These are constructed from reinforced steel with premium steel mesh bases, guaranteed to support individual weights of up to 40 stone. 
If you would prefer a wooden bed then we have many to choose from, these are made from solid wood using solid slats and a centre rail when required, we have tried to cater for customer preferences by offering many different colour finishes. The strong bed frames section consists of a variety of modern affordable bases, this is one of our most popular categories and are ideal for any bedroom surround as they are designed with simplicity in mind. We have a range of bunk beds available in different designs and colours made from either metal or wood. These are recommended for various contract and private environments and are ideal for space saving.
If it is a package you are looking for then we have both the bed and mattress deals and heavy-duty divan sets sections. These are very popular as they offer great value for money and are a cheaper option than purchasing both separately. If you are wanting strength as well as storage then our ottomans are ideal, we have an upholstered base or many choices of leather. There is also end or side lift options. We have a heavy-duty sofa bed ideal for contract environments, this adheres to crib 5 standards and there is a wide range of colour and upholstery options to suit. Our electrical adjustable beds come with heavy duty motors and have the ability to sit or lay in different positions.
If you are looking for express delivery then we have a selection of beds and mattresses to choose from, you can select a particular delivery day at checkout and these are all available within 4 working days (excluding bank holiday). 
VAT Relief
Best Selling Beds
Fast Seller
From
£199.00
Est Delivery: 1-2 Days (EXPRESS)
Date may depend on service options and postcode.
Fast Seller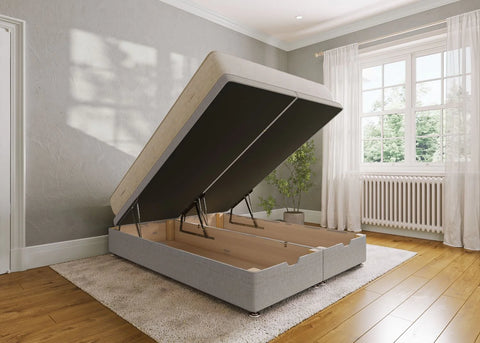 From
£399.00
Est Delivery: 3-4 Weeks.
Date may depend on service options and postcode.