Why Choose Us? Our Quadruple Bunk Beds are a stylish and sturdy space saving solution for all environments. These adult bunk beds are finished to a very high standard on both metal and wooden options. With very few UK manufactured double bunk beds, we tip the scales in our favour by making heavy duty products like no other!
Structure
Our quad bunks can be used as a child's and adult bunk bed alike. The double over double bunk design is a fantastic addition to our product list and is available in both a strong, thick steel or solid, sleek wooden option. These bunk beds fit standard double sized mattresses.
Both options have their own strengths. The steel used on the Metal Quad bunk bed measures 2mm thick. This is up to double the thickness of standard bunks. The Wooden Quadruple Bunk uses thick solid wooden slats.
Finish Option
For no extra charge, we offer standard finishes on both bunk beds. Premium and custom finishes are available as detailed on the product pages. Contact our customer services team if you had enquiries about custom options.
Delivery
Once manufactured and quality checked, our fantastic bunks are carefully packaged and despatched. Our customers are invited to book their own delivery using our easy-to-use booking system, sent via email and SMS. Delivery can take place within 2 working days at this stage. It is customers choice when delivery will happen. 
VAT Exemption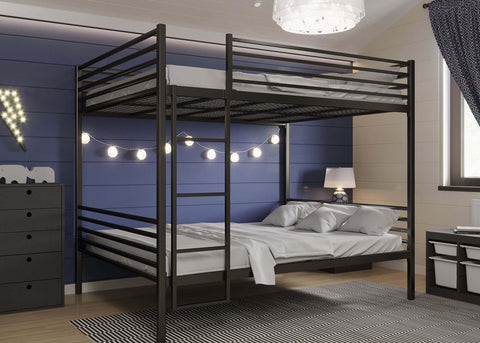 From
£1,099.00
Est Delivery: 8-10 Weeks.
Date may depend on service options and postcode.